The sixth in the Black Series from Mercedes-AMG makes 720 horsepower from a twin-turbo V-8 and can exceed 200 mph.
Its appearance is as extreme as its performance with liberal use of carbon fiber and an extensive aerodynamics package.
Details on price and availability have not yet been released, but since the Black Series is the top of the AMG food chain, the GT Black Series can be expected to cost well above the GT R Pro's $200,645 starting price.
Each one of the five AMG Black Series models so far has been an exercise in extreme performance, expensive technology, and extravagant style. And the new AMG GT Black Series tops each one of them: Directly inspired by the AMG GT3 race cars, it is fitted with a 720-hp V-8 engine and a plethora of changes that set it apart sharply from any other AMG GT, including the wild GT R.
MASTERPIECES FROM AMG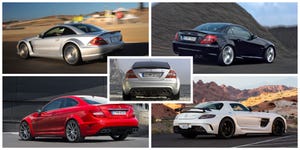 All the Former Mercedes-AMG Black Series Models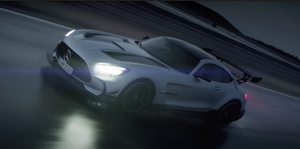 Watch the Mercedes-AMG GT Black Series on Track
Even at first glance, the AMG GT Black Series is a very different animal: The Panamericana-inspired front grille is far larger, angrier, and feeds larger intercoolers compared to the lesser GT models. Carbon fiber is used liberally, including for the hood, roof, hatch, as well as the front and rear facias. The front hood is perforated with large air outlets. An extensive aero package includes a manually adjustable front splitter and rear wing. The wing also features an active aero flap is electronically adjusted by 20 degrees, flattening for greater speeds and inclined to improve braking and control stability. The aggressive bodywork highlights the ultra-wide track and is accentuated with black wheels shod with 285/35ZR-19 front and 335/30ZR-20 rear rubber, which are available in two compounds of the Mercedes-spec Michelin Pilot Cup 2 R tires; the M01A being a softer tire and the M02 being slightly harder. The ostentatious visual package is topped off by AMG "Magmabeam" paint.